New Year's Challenge: What to Do With Clutter
Tuesday, December 29, 2009
UPDATE: Hello Org Junkie readers! This was a New Year's Challenge I had, but read down for some great pointers on what to do with clutter! Plus I like showing off my before and after pictures :).

Have you taken me up on my challenge yesterday yet? If not, I'm going to give you a chance to do so again today!

The challenge was to take some of these slow days between Christmas and New Year's and actually tidy and declutter the one area of your house you're scared to go in. I have two such areas, but I tackled one yesterday, and it looks awesome!

Here's a before: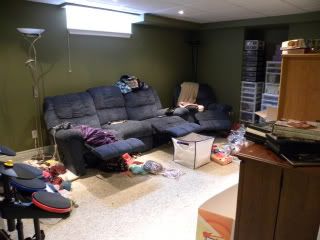 And here's an after:





A few more:





And here's younger daughter vacuuming the TV with older daughter being silly:





Here's the challenge when you're decluttering, though. What do you do with all the stuff you want to get rid of? You don't want to contribute to landfill, so what do you do? Here are a few thoughts:



1. Give to thrift stores

(if it works and if it's sellable). Don't just dump stuff that you would normally put in the trash. But if it's usable, give it.



2. Find families with younger children than yours and pass it on

! We recently passed on about 30 Groovy Girls complete with clothing and furniture. What a great present for those little girls, now that our girls have grown out of them!



3. If you have old clothing, bedding, or linens, but they're too worn to be reused, ask at your local Salvation Army

if they still need them. Someone at our Salvation Army, for instance, collects such stuff and sells it by the ton to a company who shreds it up and turns it into mattresses. Chances are there are such opportunities around. Just keep these donations separate from the wearable clothing, and be sure to let the Salvation Army know what you're giving them.



4. Do you have a Green Building Store in your area

? We have a store where you can purchase salvaged household building supplies. If you're ripping out cupboards, getting rid of carpet, changing faucets, or anything like that, you may be able to drop it off at such a store. You never know who may find it useful!



5. Ask around about what people involved in missions would like

. We're collecting yarn and towels, for instance, for a trip we're taking in March to Africa. We've started a knitting microbusiness program with some graduated girls from a children's home, and we're bringing a lot of that old acrylic yarn everyone buys from WalMart and then never does anything with. We're taking a ton of knitting needles and crochet hooks, too. If you have old craft supplies, see if someone on short term missions projects can use them.

Often schools have knitting programs, and they may be able to use craft supplies. You can also try churches with clubs groups during the week, or Boys and Girls after school clubs that are always looking for things for the kids to do. Some of them would surely love old construction paper, or markers, or yarn, or whatever.

Senior citizens homes and retirement homes often are eager for craft supplies (and sometimes even more eager for people to come in and start a knitting project with them). So if you have knitting/crocheting things you don't use, you may be able to get rid of them that way.



6. Have furniture you're willing to get rid of for free?

Try putting a notice in your church bulletin, or putting up a notice in your local grocery store or local community college. Someone's sure to want it!

7

. Finally, don't forget about ways to reuse things you already have

. I've taken old flannel pyjamas and fleece sweatshirts and sewn them into sanitary pads to take to Africa. I know it sounds gross, but take a look at these pictures:





You can read instructions in this post on how to make them.

And I've also taken old sweaters that are out of fashion or that I don't like anymore and reclaimed the yarn.

Here's a sweater that was too small: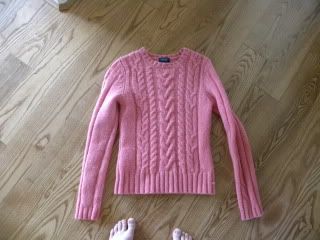 I'll write a separate post, with pictures, on how I got the yarn, but suffice it to say that I have seven pink skeins of wool that I'm excited to turn into something new!

I've even covered pillows that were ugly with a new cover that I've knit. Hey, it uses up yarn and an old pillow!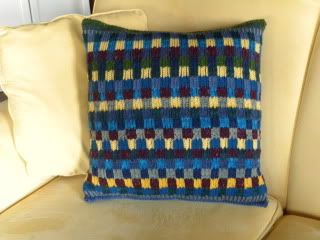 8. Don't forget about regifting.

But I don't just mean giving away gifts you've been given. Lots of things can be transformed into gifts. Old mugs can be stuffed with homemade chocolate truffles. Wicker baskets, napkins, or tea towels make great gifts, too. Just stuff them with homemade cookies or buns, and you have a housewarming gift! So just because your mugs don't work for you anymore, or you have too many teacups, don't get rid of them! Keep them and use them as gifts.



9. Remember consignment stores or second hand stores

. Many places will pay you $1 for a DVD or a CD. Great way to purge some of those collections. Others will pay you 20% of the cover price on paperbacks. So don't just throw out your old books. See if you can turn them into money.

I think that's it! But if you have any other great ideas on what to do with older things if you don't want to fill landfill, do leave them in the comments! And if you feel inspired now to clean up one of your cluttered spaces, why not take before and after photos and leave the link in this post? Then we all can congratulate you!

Hello Org Junkie readers! Great to see you here! Why not stay and look around a bit? I've got lots of posts on marriage, parenting, and more!

Labels: cleaning, clutter, organizing


Add to:
facebook |
Twitter |
Del.icio.us |

Stumble It! | Digg | Technorati |


Subscribe to To Love, Honor and Vacuum
posted @ 8:00 AM


About Me
Name: Sheila

Home: Belleville, Ontario, Canada

About Me: I'm a Christian author of a bunch of books, and a frequent speaker to women's groups and marriage conferences. Best of all, I love homeschooling my daughters, Rebecca and Katie. And I love to knit. Preferably simultaneously.

See my complete profile





Follow This Blog:



Subscribe to To Love, Honor and Vacuum
Follow on Twitter:
Follow on Facebook:
Important Links
Previous Posts
Categories
Popular Archived Posts
Archives
Christian Blogs
Mom Blogs
Marriage/Intimacy Blogs
Blogs For Younger/Not Yet Married Readers
Housework Blogs
Cooking/Homemaking Blogs
Writing Links
Credits
Blog Design by Christi Gifford www.ArtDesignsbyChristi.com

Images from www.istockphoto.com