Does Disorganization Bring Depression, or the Other Way Around?
Monday, December 28, 2009
How was your Christmas? I had a lovely time, more or less. The girls enjoyed their presents, I to some things I really enjoyed, but best of all we had a quiet few days with family and friends, playing games, reading, and just taking it easy.

On Boxing Day I swore to myself I wouldn't even get dressed. It was my day to relax and read. Unfortunately I only made it until 11:30 when I succumbed to the need for shower and normal clothes, but my youngest daughter made it through the whole day in her jammies!

This week coming up we're having several parties for teenagers. I'm starting to notice that once you have teens, they take over your social calendar. Instead of having people over for what I want to do, I'm having all my kids' friends over. But I enjoy their friends, and I do appreciate the fact that they're hanging out at my house rather than somewhere else!

In the meantime, though, I do have a week off before real life begins, and even though we're going to have a few parties in there, I plan to do some major organization (and relatively little "real" work). I have a hard time functioning when I feel like I can't find certain things, or there are some rooms in my house I'm scared to go in because they're so overwhelming.

I tackled our storage room before Christmas, and it's great now. This week I want to tackle our family room and my study. The family room is just a mass of craft supplies and knitting, and it needs to be sorted out, not least so that I can do my exercises down there with the Wii. I got a new Wii game for Christmas--the EA sports--and I'm looking forward to using it. Or at least I'm trying to look forward to using it. If I could get away with not exercising at all, that, naturally, would be better. But since I have to do something, that sounds infinitely more attractive than jogging in the snow.

Anyway, the family room just needs to be upended, and today the girls and I are going to attack. We're actually quite excited about it. Here are some pictures of what it looks like now: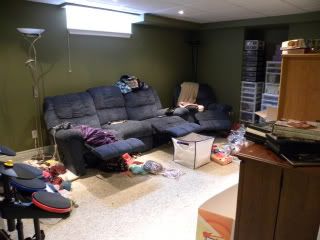 Doesn't that seriously need some work?

But I do wonder sometimes if disorganization causes depression rather than the other way around. I think I mentioned this in an earlier post, after watching some TV shows in a hotel about people who just have too much stuff and are overwhelmed about how to clean it all. It struck me that perhaps at one point they were functioning, but then things got so bad that their brains couldn't handle it. How do you tackle such a mess? And living in a mess is not healthy. Our brains don't tend to handle chaos well.

We often believe that people with mental illness don't clean, but I wonder if it's the chaos that sometimes exacerbates and causes mental illness. And even if it's not as bad as an actual psychiatric disorder, I bet a lot of women are more depressed and lethargic than they should be simply because their homes are so out of control. Get the home in control, and suddenly you'd feel like you had a ton more energy.

The "housewifely" arts have fallen by the wayside in the last few decades, but they're still important. Having a clean, organized home (not a perfect home, but an organized one) goes so far in helping us maintain schedules, deal with crises, and relax. You can find things when you need them. Your home is a fun place to be.

I know that's hard with little kids, but I think it's still worth the effort. And if, like me, you have a week off before any real life begins again, why not tackle the worst place in your house? Do it in 15 minute blocks if you have to. And if it feels overwhelming, and you don't know where to start, go into the room and look at the first thing you see. Pick it up. And decide what to do with it. Just start with the first thing you can touch.

Bring in a garbage bag, a few boxes for transporting things to other rooms, and a big glass of water. And stick to the one room. If you find things that belong in another room, don't put them there yet. Just put them in a box to deal with later. Most of all, try to throw as much stuff out as possible. The vast majority of us have way too much stuff anyway.

So how about it? Are you with me? Let's clean something that really needs it, and start the new year off with a burst of energy. I'll post some after pictures later in the day, and I'll put up a MckLinky if you want to post yours from the week.

If you don't want to go the picture route, just leave a note in the comments about what you need to clean! Or if you're a perfectly organized person and nothing needs cleaning, leave a note and tell us how you've managed to attain such a glorious position in life!

Thanks for joining me, and I'd love to hear your thoughts!


Labels: cleaning, organizing


Add to:
facebook |
Twitter |
Del.icio.us |

Stumble It! | Digg | Technorati |


Subscribe to To Love, Honor and Vacuum
posted @ 8:58 AM


About Me
Name: Sheila

Home: Belleville, Ontario, Canada

About Me: I'm a Christian author of a bunch of books, and a frequent speaker to women's groups and marriage conferences. Best of all, I love homeschooling my daughters, Rebecca and Katie. And I love to knit. Preferably simultaneously.

See my complete profile





Follow This Blog:



Subscribe to To Love, Honor and Vacuum
Follow on Twitter:
Follow on Facebook:
Important Links
Previous Posts
Categories
Popular Archived Posts
Archives
Christian Blogs
Mom Blogs
Marriage/Intimacy Blogs
Blogs For Younger/Not Yet Married Readers
Housework Blogs
Cooking/Homemaking Blogs
Writing Links
Credits
Blog Design by Christi Gifford www.ArtDesignsbyChristi.com

Images from www.istockphoto.com