Works for Me Wednesday: Storing Photos and other Mementoes
Wednesday, February 25, 2009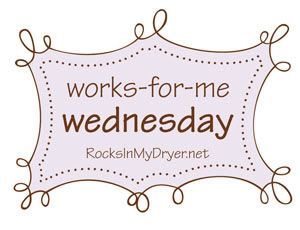 One of the problems I have in my house is CLUTTER. I'm big on decluttering, and I take at least one day a month to shove all the useless stuff out of my house.

But here's a problem: some of the stuff that clutters up our house isn't useless. It's the things that hold priceless memories for our families.

We don't want to get rid of them, but we also don't want them messing up our homes!

You know what I'm talking about: the finger painting pictures on the fridge; the little stories our 7-year-old writes; the crafts they bring home from Sunday School. And most of all it's all the photos! I don't print a lot out anymore since we have a digital camera, but that doesn't stop OTHER people from giving me photos of my kids! And I can't put them all in albums.

So what do you do with all these mementoes? These are things you want to keep, but you don't necessarily have room? Well, today on Works for Me Wednesday I want to direct you to two resources that have worked marvelously for me. These aren't my ideas, so I'm not going to pass them off as mine! I'll just point you to where I got them.

Control Kids' Clutter
First, a great blog post with awesome ideas of how to save children's "artwork" and other papers. When I was married my mother read from something I had written in kindergarten, which was just hilarious and had the whole wedding party in stitches. But we wouldn't have had that moment if she hadn't managed to save it--and remembered where it was when the time came.

Great advice for what to throw out, what to keep, and how to keep it!


Organize Your Photos

Maybe you're a scrapbooker who loves to make photo pages--but you only use about 1% of your pictures! Or maybe you're like me, and you just have hundreds and hundreds of old photos that aren't yet in albums. You don't know which ones to keep, and it seems overwhelming to even get started!

Here's where Christine & Tracey can help! They've come up with a great resource that will help you Save your Photos & Your Sanity! Learn which to keep, how to organize them, where to store them, and best of all, where NOT to store them! Don't miss these amazing tips, and the motivation they give you to get your photo clutter under control! (Now this is a paid e-book, it's not free advice, but it's really good!).
Click Here to Save Your Photos

I'm in the middle of reorganizing my office right now, and turning it more into an office/guest room. My whole house is an absolute mess, which always happens as soon as you try to organize. But as I'm leafing through myriads of papers, I've realized the true blessings that come when your mementoes are well stored. At least you know they're safe, and you can find them quickly!

I hope these help you deal with your prized possessions!



Thanks for dropping by! Why not

stay a while

? I've got great blog posts on marriage, parenting, s-e-x (in marriage) and more!




Labels: organizing, Works for Me Wednesdays


Add to:
facebook |
Twitter |
Del.icio.us |

Stumble It! | Digg | Technorati |


Subscribe to To Love, Honor and Vacuum
posted @ 8:07 AM


About Me
Name: Sheila

Home: Belleville, Ontario, Canada

About Me: I'm a Christian author of a bunch of books, and a frequent speaker to women's groups and marriage conferences. Best of all, I love homeschooling my daughters, Rebecca and Katie. And I love to knit. Preferably simultaneously.

See my complete profile





Follow This Blog:



Subscribe to To Love, Honor and Vacuum
Follow on Twitter:
Follow on Facebook:
Important Links
Previous Posts
Categories
Popular Archived Posts
Archives
Christian Blogs
Mom Blogs
Marriage/Intimacy Blogs
Blogs For Younger/Not Yet Married Readers
Housework Blogs
Cooking/Homemaking Blogs
Writing Links
Credits
Blog Design by Christi Gifford www.ArtDesignsbyChristi.com

Images from www.istockphoto.com