Works for Me Wednesday: Talking to Kids About Puberty
Wednesday, January 28, 2009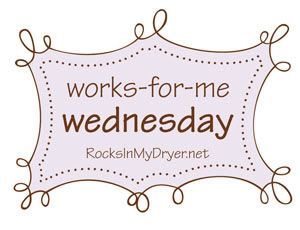 Probably one of the scariest parts of being a parent is that knowledge that one day you're going to have to tell your children about sex. I know I wasn't really thrilled about it.

I always decided that when my daughters asked, I would tell them, at an age appropriate level. But my oldest daughter never asked.

Now I hit puberty quite young; it was right around my eleventh birthday. So when Rebecca was 10 1/2, I decided it was time to spill the beans on everything.

I took her away for the weekend, and we listened to a CD set called Passport2Purity (Book & CD Set)
It's put out by Family Life, the group that I do marriage conferences with, and it's really good. There are five talks, and activities to do with each talk. We only listened to the first three, which had to do with what happens at puberty and sex. The other two are more about vowing to stay pure and deciding about dating, and since my 10 1/2 year old was grossed out by the whole thing and would have vowed to anything at that point, I thought it was better to wait until the idea of it seemed at least a little enticing!

The activities are easy to do, but illustrate well what sex is supposed to be like. And we had a good talk about what it means to grow up, and have your period, etc. etc.






With my second daughter, everything was very different. She asked questions at 8 or 9, and I told her everything. And she was awfully funny about it. (Sample question: how long does he have to leave it in for?). I told the whole sad story in this podcast: When Bees Come Buzzing, Teaching Your Kids About Sex.

But something else happened. We've been to Africa, to an orphanage in Kenya, twice now (and my mother is going again next month). And one of the big projects I've had is teaching the girls how to make cloth menstrual pads, because they just can't afford disposables. And the cloth ones are really cute!

This Sunday I'm even having a sewing party where dozens of women are coming over and we're hoping to mass produce them before my mother leaves for Africa.

The girls think I'm gross, but awfully funny, because I'm always collecting flannel and fleece for my "craft project". So they know all about it.

But when they each got their periods, I also decided it was time to teach them how to handle money. So I gave each of them $100 and a large set of cloth pads. I told them they could use the cloth, and keep the money, or they could take the money and buy disposable pads. They tried the disposables, and both decided to go with the cloth. They're more comfortable. So they only buy the disposables when they're going out.

I figure that they may as well learn to manage money! And they stick the pads in the washer, too, so they manage that as well.

I wanted to do one more rite of passage when they hit thirteen, so I held a blessing party for Rebecca. I haven't had one for Katie yet, since she's only 11, but it was a great time with Becca. I invited important women in her life over and they all said a blessing over her, while we did our nails and enjoyed a chocolate fountain. You can read all about it here.

What I've found, though, is that the kids don't have a problem asking me anything now. Because I was up front with them from the beginning, and because we tend to be open about these sorts of things in our family, they really will talk to me. It takes courage to discuss growing up with your kids, but it is worth it. I would so much rather they get their information from me than from anybody else.

So go for it! Once your kids hit 8 or 9, look for opportunities to talk with them. And at 10 or 11 for girls, or 11 or 12 for boys, make sure they do the Passport to Purity weekend with you (or your husband, in the case of boys). Then start giving them increasing responsibility as they hit puberty. It really is an exciting time for everybody, and it's fun to see what kind of person they're becoming!

What about you? Have you had experience talking to kids about sex? How did it go? Leave your ideas in the comments!

Thanks for dropping by for Works for Me Wednesday! Why not stay and look around a while? I've got great posts on marriage and parenting, including my Wifey Wednesday posts!


Labels: puberty, teens, Works for Me Wednesdays


Add to:
facebook |
Twitter |
Del.icio.us |

Stumble It! | Digg | Technorati |


Subscribe to To Love, Honor and Vacuum
posted @ 7:50 AM


About Me
Name: Sheila

Home: Belleville, Ontario, Canada

About Me: I'm a Christian author of a bunch of books, and a frequent speaker to women's groups and marriage conferences. Best of all, I love homeschooling my daughters, Rebecca and Katie. And I love to knit. Preferably simultaneously.

See my complete profile





Follow This Blog:



Subscribe to To Love, Honor and Vacuum
Follow on Twitter:
Follow on Facebook:
Important Links
Previous Posts
Categories
Popular Archived Posts
Archives
Christian Blogs
Mom Blogs
Marriage/Intimacy Blogs
Blogs For Younger/Not Yet Married Readers
Housework Blogs
Cooking/Homemaking Blogs
Writing Links
Credits
Blog Design by Christi Gifford www.ArtDesignsbyChristi.com

Images from www.istockphoto.com