On My Trip to Kenya
Thursday, April 08, 2010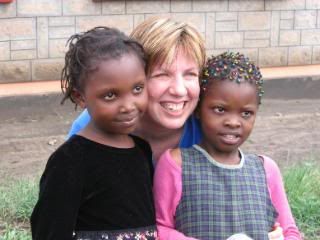 I'm having a very hard time writing about my trip to Kenya because it's so hard to summarize. So I think instead I'll give you a few snippets, rather than trying to give you all my thoughts at once.

1. The real problem in Africa is not AIDS. It's poverty and family breakdown. Sure AIDS plays a part, but if people had food and good nutrition, things wouldn't be nearly as bad. In the children's home where we worked, the percentage that were HIV positive was actually very low. But all came from horrific backgrounds. Some had been sold into sex work at the age of 8 or 9 by desperate relatives (including mothers). Some had been orphaned, and then seen their aunts and uncles come and take all the furniture out of the house, leaving them with absolutely nothing. We got to know one family of three biological sisters who were orphaned at ages 9, 5 and 3. The 9-year-old somehow found food for the other two for a year before the three were rescued. They had no furniture or cooking ware in their house.

Other children were tossed aside when their mothers died, and the father's other wives didn't want them. While Kenya is not a primarily polygamous country, there still is polygamy, and it wreaks havoc wherever it goes.

Our team was primarily a medical one. We had five doctors, six nurses, two pharmacists, and a dentist, along with the rest of us who were doing other things. The medical side saw 1,200 patients from the community, some of whom had walked upwards of 50 kilometres to get there. And the primary complaint? Typhoid. Waterborne illnesses. If we could just get clean water to people, we could give them such a better quality of life.

Almost everyone there suffered from headaches, fevers, and aches and pains all the time. It was relentless. Add in typhoid, malaria, and parasites, and they just come to expect it. Can you imagine living like that? The children's home has a water treatment plant that's 98% ready, so probably the next medical team won't encounter the same problems. But all over Africa, water is still the number one problem. And until we solve the water issue, the AIDS issue doesn't seem to really matter.

I'm not trying to discount it, it's just that in terms of severity, AIDS was way down the list. Let's get people food and water, and then we can start worrying about it.

2. Beauty is magnified in Africa. The people are beautiful. The singing is beautiful. The land, even with its cactus and thorns, is beautiful. The animals are beautiful. And perhaps because you live more outdoors and you're not connected to a computer, you experience and appreciate that beauty in a way that we can't in our busy lives.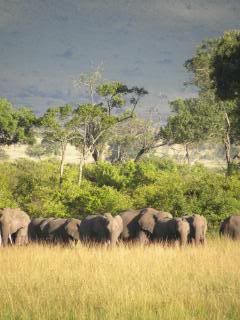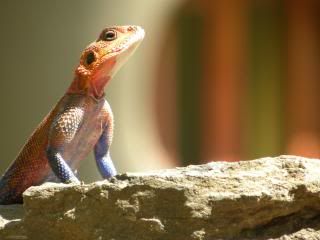 3. Things are much slower there. I went with the expectation that I would get X, Y, and Z done. But things don't move according to my agenda. They value people much more than accomplishments, and they'd rather sit and talk to you than do something that you think is important. Rather than get frustrated, I learned how to talk and enjoy people with no agenda. It was actually quite freeing.

What I was involved in was teaching some of the women how to use the 30 knitting machines we brought with us so they can knit sweaters for the kids and then sell some. It actually does get quite cool sometimes, and they wear sweaters even when we would be in T-shirts, so it is needed. And we had such a great time teaching some of the kids to knit by hand, too. Some of them had been taught by mothers and grandmothers now dead, and it was a way to honour something from their past. Plus it was awfully fun!





4. Kenya has such potential. One girl in particular really stands out to me. She's in grade 12, and she wants to be a doctor. Her marks are excellent. I'm hoping to support her so she has the money to go to school. She's a natural leader, and leads worship at church. But she came from a very poor family who were subsistence farmers. When her parents died, she was beaten by relatives and neighbours as she came begging for food.

It makes me think: how many other geniuses is the world missing out on, as they live in slums, or perish in land without water? Many of these children are so bright, but they never had a chance to go to school until they ended up at the home. How can the world improve when we are wasting so much talent?

5. Holding a child who was left in a ditch to die at 3 weeks of age, and is now a thriving seven year old who can read and has memorized Bible verses and runs and smiles and plays is an amazing experience. Hugging a child who is 2 and who has survived her house being burned down while her mother did not, and feeling her peace, is so calming. It reassures you that no matter how dark life can get, God does not leave you. He snatched these children out of the worst circumstances and brought them to a place with great light. And we would say that these kids will never recover from their psychological wounds, and yet I have seen adults who grew up there as children who are now doing well--they're married, they have jobs, they're happy.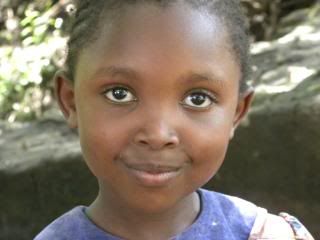 Perhaps we don't recover from traumas because we're too focused on them. These kids don't focus on the past--they focus on opportunities. They work hard at education, they make new friends, they learn to love God, and somehow the hurts fade. It's a good lesson.

6. Africa has a very different way of looking at family than we do. The British upper class, for instance, has always sent their children away to boarding school, as young as 7. I could never do that. I just couldn't. But in Africa it's very common for families to live apart from one another. Husbands go to far off cities to find work, and are there for six months or a year at a time (no wonder AIDS spreads. They sleep with prostitutes and then come home and give it to their wives). Kids go off to high school in a different city. It seems quite normal to raise children away from married, biological parents on a daily basis.

In some ways this is just a cultural thing (and an economic thing), no different from Britain last century. But I don't think it's healthy. I think Africa needs strong families. Churches need to encourage people to actually live together. It's hard, because you don't want to lose your ancestral land if you go to the city for work, but it's not healthy what's happening. And I do think kids need to know their parents. But perhaps it's just me being judgmental.

7. I'm left with the thought that this is not real life--this thing that I do. This playing on the computer and figuring out what to wear each day and taking the car in for an oil change and planning vacations. It's all fun, and it's all part of my daily routine, but life is so much bigger. The world is so much bigger. And we need to listen to God's whispers to take us out of our small lives and pay attention to that bigger one--the one around the world, the one around the corner, even the one that He is creating for us that we can't see yet. Each day is a gift, so let's spend time just appreciating it, and praying, and being still. Let's not get overwhelmed by the here and now. This is such a small part of God's creation, and He is doing so much in the world. I'm glad to realize again that the world does not rest on me--it rests on Him, and what He is doing. And that's so much better.



Subscribe to To Love, Honor and Vacuum
Labels: Africa, social issues


Add to:
facebook |
Twitter |
Del.icio.us |

Stumble It! | Digg | Technorati |


Subscribe to To Love, Honor and Vacuum
posted @ 7:01 AM


About Me
Name: Sheila

Home: Belleville, Ontario, Canada

About Me: I'm a Christian author of a bunch of books, and a frequent speaker to women's groups and marriage conferences. Best of all, I love homeschooling my daughters, Rebecca and Katie. And I love to knit. Preferably simultaneously.

See my complete profile





Follow This Blog:



Subscribe to To Love, Honor and Vacuum
Follow on Twitter:
Follow on Facebook:
Important Links
Previous Posts
Categories
Popular Archived Posts
Archives
Christian Blogs
Mom Blogs
Marriage/Intimacy Blogs
Blogs For Younger/Not Yet Married Readers
Housework Blogs
Cooking/Homemaking Blogs
Writing Links
Credits
Blog Design by Christi Gifford www.ArtDesignsbyChristi.com

Images from www.istockphoto.com